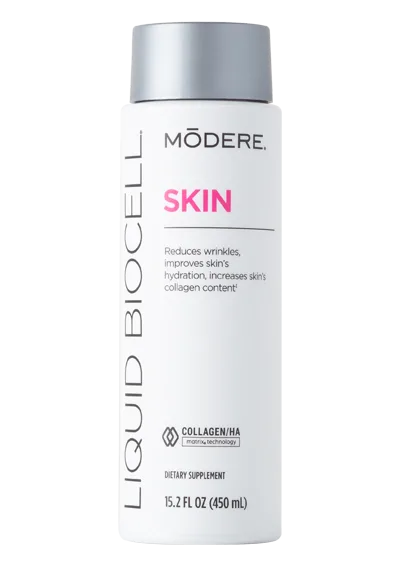 Liquid Biocell Skin
Liquid BioCell Skin provides the proven advantages of the multi-patented supernutraceutical Liquid BioCell Collagen combined with 18 phytonutrient-rich superfoods and ceramides.
It enhances skin's collagen content and restores radiant, youthful skin from the inside out.*
Its award-winning, multi-patented Collagen/HA Matrix® Technology is clinically demonstrated to decrease wrinkles, nearly eliminate dryness and go a vital step further – it helps inhibit the enzyme that can make your skin age.  Plus, Liquid BioCell enhances joints and muscle tone and even supports healthy hair, nails, gums and eyes.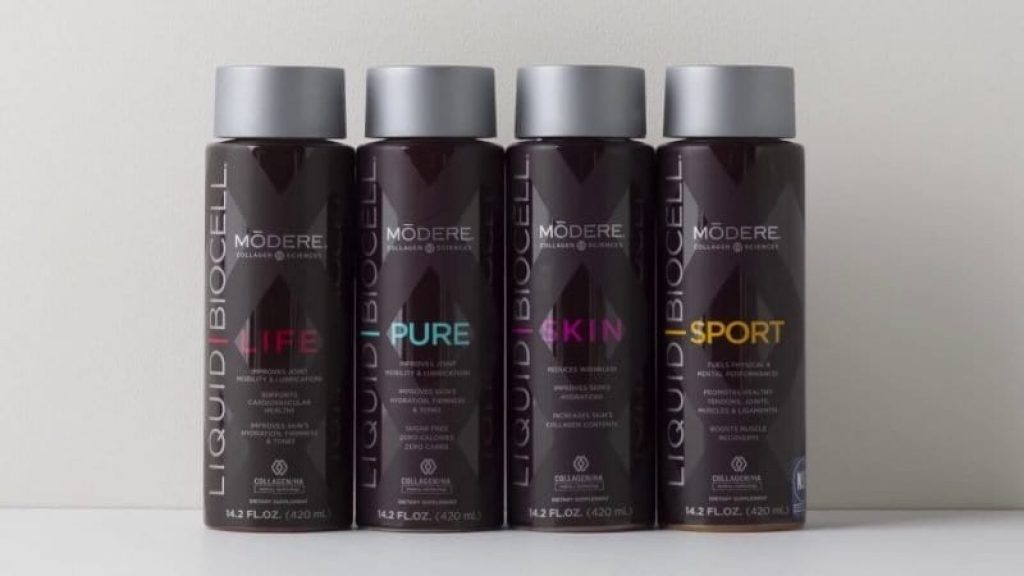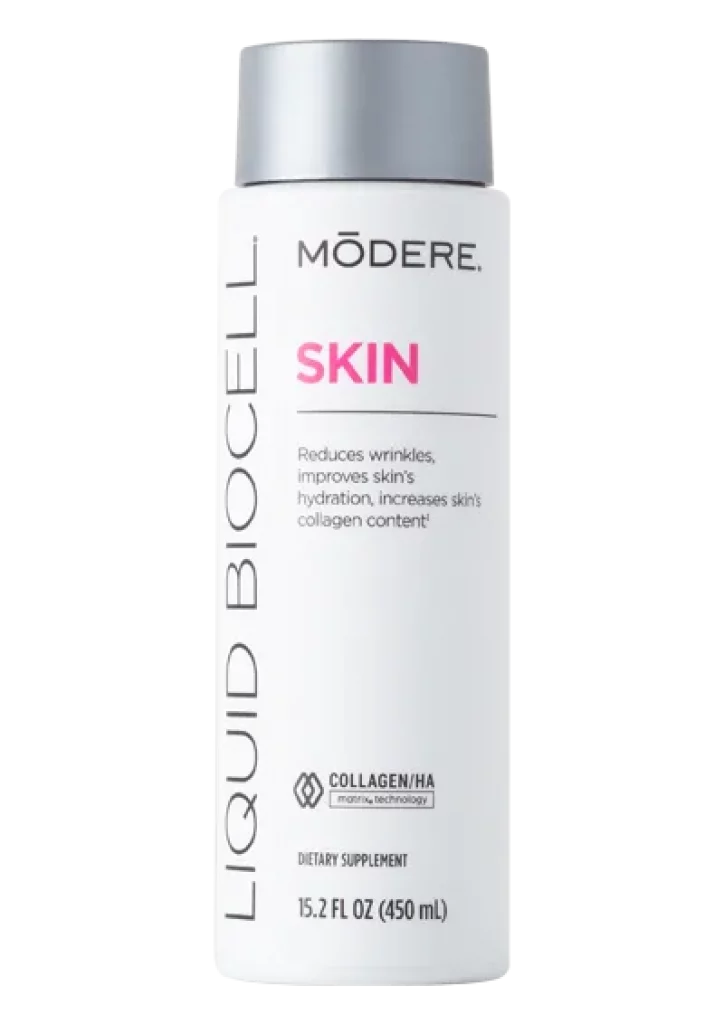 Countless products claim to improve the way your skin looks by reversing the signs of aging. 
What makes Liquid BioCell Skin any different?
Modere vows that their special matrix of hyaluronic acid and collagen make a world of difference when combined with other unique ingredients. Liquid BioCell Skin comes from a line of other dietary supplements that aim to revitalize your skin and body.  Liquid BioCell Skin restores the health and vitality of skin from within the body to reverse aging inside and out. 
Liquid BioCell Skin contains the multi-patented super-nutraceutical, Liquid BioCell collagen. The manufacturer states that users receive powerful benefits from taking this supplement that also has almost 20 phytonutrients and ceramides. 
By increasing the collagen levels in the skin, it can restore the glow, and make the skin look more supple. Modere calls it Matrix Technology, adding that the blend of HA and collagen that they have assembled has been clinically proven to eliminate irritation and dryness from the skin. 
Not only this, but it can reduce the power of the enzyme that causes the skin to age as well. Finally, Liquid BioCell Skin makes your nails, hair, eyes, and gums look and feel healthier also. If you're experiencing any joint pain or muscle stiffness as a result of osteoarthritis or getting older, Liquid BioCell Skin can help with that too. 
What's the difference? The company claims that you can't find a more unique blend of ingredients to counteract skin aging than their "new generation" collagen supplement. 
Liquid Biocell Skin Features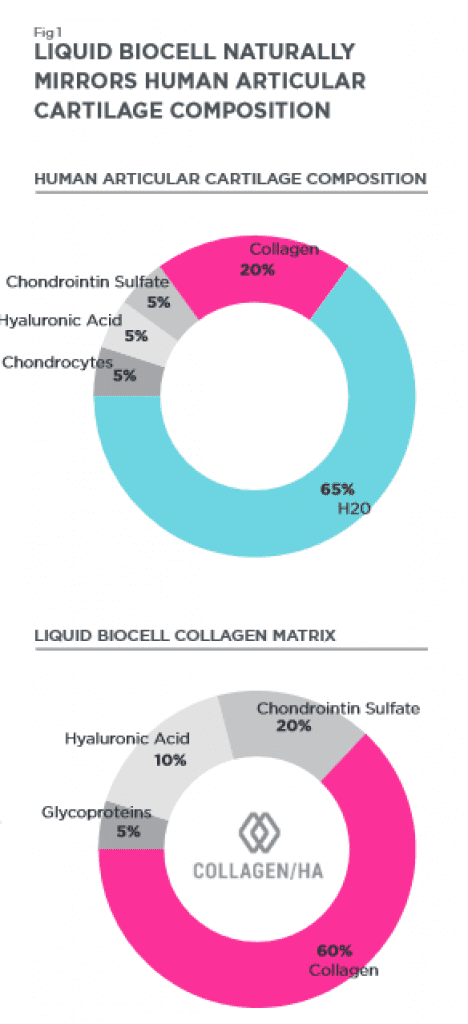 Liquid BioCell innovations, such as our sophisticated liquid delivery method, have established new standards in the market, compelling established businesses to boost their game.
None, however, can equal Liquid BioCell unique mix of single-source collagen, matrix composition, and appropriate molecular weight. 
Only Liquid BioCell possesses the following characteristics:
Numerous industry honors
7 patents in the United States and abroad
Matrix derived from natural sources (not a combination), composed of hydrolyzed type II collagen (60%) and hyaluronic acid (10%)
sulfate of chondroitin (20%)
Collagen/HA Matrix® is a patented material that replicates natural articular cartilage*
The patented Bio-OptimizedTM method results in a molecular weight that is optimal for absorption*.
Delivery mechanism for liquids
Formulation concentrated
Now that you know what it claims to do, how does it actually achieve more youthful-looking skin?
COLLAGEN SCIENCES THE SCIENCE
Liquid BioCell is a naturally generated Collagen/HA Matrix that's scientifically tested and backed by 7 U.S. and international patents.
What makes it so unusual?
This award-winning, single-source matrix combines highly absorbable collagen with hyaluronic acid and chondroitin sulfate, in quantities that mirror human articular cartilage composition.
It's clinically demonstrated to give exceptional joint benefits—and stunning skin advantages too.*
Three of the key contributors, HA Matrix, Collagen, and Chondroitin, are all necessary to keep your skin looking firm and healthy. As mentioned before, when you get older you start to make less and less of these substances, and it shows gradually.
Though numerous collagen products might benefit the skin to some degree, very few have HA and chondroitin sulfate, both in a low molecular weight this enables higher absorption of the collagen in the body.
The Liquid BioCell blend restores these substances that your body has started to slow down producing. By delivering hyaluronic acid to increase skin moisture and reduce wrinkles.  Liquid Biocell Collagen also makes your skin firmer, you start to see your body and face look better. The chondroitin sulfate works to balance the levels of substances that keep aging at bay. 
And not only does the product add these three substances back into your body, but it also notifies your body to produce more of its own as well.
Liquid Biocell Skin Before and After
Benefits & Side Effects
Here are the benefits of Liquid Biocell Skin:
It prevents stiff muscles and joints by increasing lubrication and joint mobility
It improves your muscle tone
It lessens joint discomfort
It encourages healthy connective tissue and cartilage
It reduces the appearance of wrinkles and fine lines from the inside out
It adds collagen back to the skin
It improves the skin's elasticity, firmness, and hydration
It decreases hyaluronidase, which is an enzyme that contributes to aging skin
It encourages healthy gums, nails, hair, and eyes
It improves your cardiovascular health
It reduces dry skin
It stimulates muscle cell recovery
It supports the body's stamina and energy
It encourages healthy joints, ligaments, tendons, and muscles
It eliminates dryness
It encourages an even skin tone
It improves the skin's microcirculation
Dosage
You are recommended to consume one tablespoon of Liquid BioCell Skin two times a day. 
Side Effects
There aren't many reasons to be alarmed about the side effects of taking Liquid BioCell Skin because it is composed of mostly natural ingredients. The only pause for concern would be the lack of transparency as it relates to the specific amounts of each ingredient, which is not listed on the bottle. 
Both the HA and the collagen come from chicken cartilage, so if you have an egg or chicken allergy, you should steer clear of this product. 
Collagen alone isn't typically a problem for most because it's a form of protein. However, you might experience feeling full or bloated after consumption, and possibly a bitter taste. 
The only known side effects that could cause true discomfort from vegetable and fruit concentrates are GI distress or an allergic reaction. Otherwise, you shouldn't have to worry about adverse effects from those ingredients. 
Before consuming a dietary supplement, speak to your primary care provider to assess if this product is suitable to add to your routine. There is also the consideration of interactions with other drugs, so be sure that there are no ingredients that may cause a negative reaction. 
Active Ingredients
Review Effects and Scientific Studies
Here are the active ingredients in Liquid Biocell Skin, with a review of the effects:
BioCell
The key ingredient in all of the Modere products is BioCell Collagen. It is a proprietary blend of hyaluronic acid, collagen, and a little chondroitin. The primary claim by the manufacturer is that all of these components work in conjunction to enhance the way your body absorbs and uses collagen. Modere has researched the veracity of these ingredients to support reverse aging, and there are a few notable studies on the ingredients as well. 
In 2012, a study took place that included 26 women that had visible symptoms of aging, such as fine lines, wrinkles, and so on. The researchers discovered that if they administered one gram of BioCell for a total of 12 weeks, the subjects had fewer wrinkles and less dryness.
Additionally, they observed a high spike in the collagen and hemoglobin content of their skin. 
Hyaluronic Acid
Our bodies produce hyaluronic acid (HA) on their own, which is part of the process that keeps our skin moisturized to an extent. As you get older and your body makes less HA, your skin gets drier, thereby causing wrinkles and lines. You start to have an overall lack of elasticity, which produces visible signs of aging. 
Studies have shown that taking a supplement that contains HA can assist with restoring some of the skin's moisture.
Type II Collagen
BioCell has type II collagen that comes from chicken cartilage. This collagen has proven beneficial for improving flexibility and even reducing symptoms of osteoarthritis, like joint pain. 
Furthermore, it can improve the appearance of the skin, making it look more youthful over time. 
Ceramides
Ceramides are fatty acids that can attach to other molecules, enhancing their overall functioning. One way that ceramides benefit the skin is as a moisture barrier. Many topical products feature ceramides because they can prevent irritation and dryness.
Ceramides also help to protect your uppermost layer of skin, the epidermis, from harsh environmental conditions. All of these benefits together can help make your skin look better since dry skin is the culprit for wrinkles and lines. Keeping your skin moisturized can minimize their appearance. 
Bamboo Extract 
If you're looking to improve skin firmness, bamboo extract is the perfect candidate. It's versatile because it works for all skin types, and it's especially good for acne-prone skin. It does so by strengthening the outer layer of skin to fight against environmental pollutants and bacteria. 
Green Tea Extract
Multiple studies have concluded that green tea extract is a potent and effective ingredient that can be taken orally or applied topically. It helps to reduce redness for those with acne, and it increases skin elasticity.  
Other research asserts that green tea extract also makes your skin more moisturized over time. While you won't see a drastic difference immediately, green tea extract is a good ingredient to add to your regimen regardless. 
You can also opt to drink one cup of green tea a day for additional health benefits. 
Grape Seed Extract
One of the best ingredients in Liquid BioCell Skin is the grape seed extract. Although it's in small proportions, it's very useful for accelerating cell turnover and synthesizing the collagen that your body takes in. Your skin will be healthier, firmer, smoother, and have more snap. 
Grape seed oil and extract also improve how soft your skin feels and the moisture levels. The antioxidants and vitamin C in grape seed extract also prove to keep the skin clear and fresh. 
Testimonials
So what do the consumers have to say? There are plenty of people that felt that the Liquid BioCell Skin started showing improvements in a relatively short time frame. Take a look at what you may be able to expect if you add this supplement to your skincare routine:
"Awesome Collagen"
(Reviewed in the United States on March 3, 2021)
"I originally got this because I was told it would help with hair growth. And it absolutely did! I have a whole bunch of baby hairs sprouting on my head. The taste took a little while to get used to."
"Will Improve Your Skin's Hydration"
(Reviewed in the United States on August 1, 2020)
"This drink caused my lips to be less dry and plumped on their own. My skin feels velvety and softer.
The Skin formula is different from the Life formula, which has fruit flavoring. Skin doesn't have the flavor and I prefer it. Honestly, it didn't taste great, but it's OK. It's not so bad you can't drink 2 tbl. once a day.
A friend of mine using a similar, but different brand collagen product has had his receding hairline come back. (He's a young guy in his 30s. I doubt this would work for an older gentleman.)"
"Took Three Months But Worth It"
(Reviewed in the United States on March 21, 2021)
"I used this product for three months. I don't know if I could tell the difference during those three months, but it was after I ran out that I could tell the difference! ! My hair, skin, and nails all looked better when I was taking this product than they have the last couple of months. I think I felt better overall. I finally reordered yesterday and cannot wait to get my order in!"
Final Thoughts
There is a solid amount of evidence that supports the efficacy of Liquid BioCell Skin. Hyaluronic acid and collagen in particular are the two ingredients that do offer the most benefits for skin if you want to retain moisture, elasticity, and firmness. 
While we wouldn't tout it as a miracle drug that can cure your problems overnight, we would say it can't hurt to try it. The product is a bit on the pricier side, but it contains good nutrients for your skin and bones in return. 
 The product is safe in general, so while there are other collagen brands that you could take for a lower price, Modere is a renowned company that has scientific backing. 
If you have any questions or concerns about whether Liquid BioCell Skin is right for you, consult your dermatologist right away.